About SIHO
SIHO Insurance Services
SIHO Insurance Services was founded in 1987 by local employers, hospitals and physicians to provide a solution to rising health care costs for local businesses. SIHO is now a dominant employee health care benefits company, providing health plans to any size business.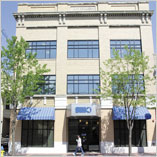 As a comprehensive health care organization, SIHO Insurance Services provides any type of health plan a business may desire. On the leading edge of employee health benefits, SIHO provides claims administration, pre-certification, case management, concurrent review, utilization review, member services, benefit consulting, a national pharmacy network and a comprehensive network of hospitals and physicians in one facility.
SIHO's Vision/Mission/Values
Integrated Delivery System
SIHO Insurance Services provides integrated delivery of quality health care through a system local to our communities and unified in its operations and technology. SIHO Insurance Services was created nearly two decades ago as a collaborative and cooperative effort of community parties which have an interest in the quality and efficiency of health care delivery: the hospitals, physicians, employers and citizens.
These functions include the following:
Medical Management
Chronic Disease Management
Managed Pharmacy Program
Network Services
Plan Features
Account Management
Client Services
Employer Benefits
SIHO Insurance Services' success in providing quality health care to employees at an affordable cost to employers has resulted in continuous growth.